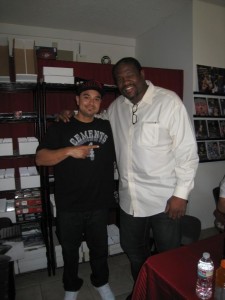 Former Heavyweight boxing champ Riddick "Big Daddy" Bowe made an appearance at Harry's Dugout in Whittier to sign autographs. In case you didn't know, Harry's Dugout is one of the newer card stores in the L.A. area. I finally had time to go to an event and wanted to check out the new card store for myself.
The event was scheduled from 1:00-3:30 pm. I was running very late and showed up a little after 3:00 pm. By the time I arrived all fans who attended the event were gone. I walked into the store and Riddick was at the table signing photos for the promoter.
To my surprise I noticed a very clean and organized card store. Most card stores that I know are very cluttered and have piles of stuff everywhere but not this one.
As I was paying for my 11X14 photo Riddick began joking with me. Riddick joked with me so much that he even put a happy face on my photo. Then again, I think he ads that to many of his autographs. I didn't mind at all. It's a good action shot of Riddick Bowe and Evander Holyfield.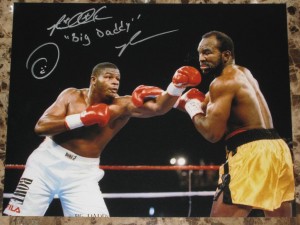 Riddick flipped my hat around for this posed photo.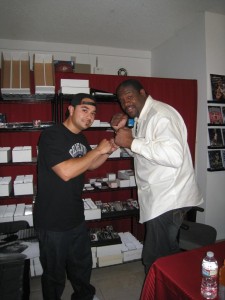 Since I couldn't make it any of the previous events, I was given free autographed photos of Jose Canseco and Tim Wallach courtesy of Harry's Dugout.
Facts about Riddick
Full name is Riddick Lamont Bowe.

43 career wins. 33 wins by KO.
Was the Undisputed World Heavyweight Champ in 1992.
I'd like to thank Riddick Bowe and Harry's Dugout for hosting this event.