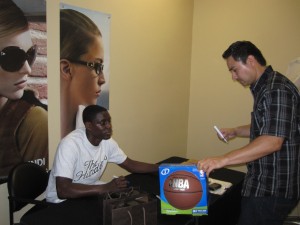 My friend Alex hosted a free private signing with current NBA point guard Darren Collison. The event took place at his Optometry practice in Rowland Heights. Only patients and friends were among the invited guests. There was no way I could turn down this easy meet and greet.
The private signing was scheduled from 1:00-1:30 in the afternoon for about 20 patients and friends. When I arrived at the office most of the invited guests had already left. I made my way to the back of the office to find only 1 person in line.
Darren was very friendly and signed everything for me. He also signed his full name which is something that he rarely does.
Facts about Darren
Full name is Darren Michael Collison.
Both of his parents were track and field athletes for Guyana.
Was the 21st overall pick in the 2009 NBA draft.
Was part of the winningest class in UCLA history with 123 wins.
Darren told me that Jay-Z is one of his favorite recording artists.
Darren holds annual basketball camps in the offseason for young athletes. For more information, visit Darren's website.

It pays off to be a patient at this optometry practice. Dr. Liu holds private signings for his patients on a regular basis. If you need good quality eye care, then you need to call or visit today.