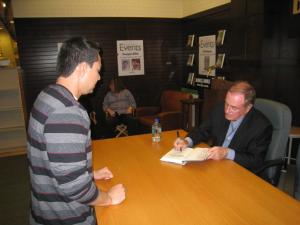 On Wednesday evening I didn't have anything planned so I decided to take a 70 mile drive to The Grove in Los Angeles. Sports broadcaster Al Michaels was scheduled to make an appearance at Barnes & Noble to sign copies of his book, "You Can't Make This Up."
It was my first time ever going to The Grove in Los Angeles and didn't exactly know what to expect.
When Al arrived he briefly discussed his book and did a Q & A with the audience. After the Q & A he signed copies of his book for a turnout that I'm guessing was about 40 people.
The truth is I didn't make the 140 mile round trip for a signed book, it was to meet this legendary sports broadcaster in person and get a photo op.
Facts about Al
Full name is Alan Richard Michaels.
Attended Alexander Hamilton High School in L.A.
Attended Arizona State University.
Has done play-by-play for the Olympics, Super Bowl, World Series, NBA Finals and Stanley Cup Finals.