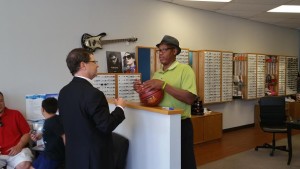 Former NBA point guard Darwin "Spark Plug" Cook made an appearance at the Optometry Practice of Dr. Alex Corbin Liu. The small event was just for some invited friends of Dr. Liu's. 
During the meet and greet, Darwin mentioned that he was very likely to open a cigar lounge in the Palmdale area very soon. If and when he opens the cigar lounge, I will be sure to post the information. That way people can light up a cigar and hang out with a former NBA player.
Darwin played in the NBA during the 1980's for teams that included the Nets, Bullets, Spurs and Nuggets.
Full name is Darwin Louis Cook.
Attended Crenshaw High School.
Attended the University of Portland.
1979 Summer Universiade Gold Medal.
Played 9 seasons in the NBA.