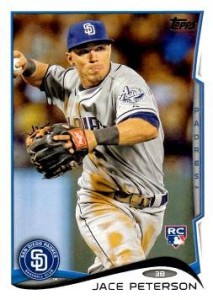 On April 25, 2014, Jace Ryan Peterson made his major league debut with the San Diego Padres. It was a short stint and after 27 games with the Padres, he was sent back down to the minors.
During the offseason Jace was dealt to the Atlanta Braves along with a few other players in exchange for Justin Upton. The trade worked out well for Jace since he ended up making the Braves roster right out of spring training this year.
Jace spent the entire 2013 season with the Lake Elsinore Storm in the California League where he batted .303 and had 42 stolen bases.