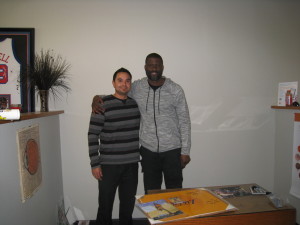 Isaiah Rider made an appearance at the Optometry Practice of Dr. Alex Corbin Liu for a private signing. Isaiah flew in from Arizona just for this private event.
Basketball fans had the opportunity to mail in, drop off items, or participate in person. I'v never been one to mail in or drop off items so when the opportunity rose to attend in person I had to take advantage.
Facts about Isaiah
Nicknamed J.R.
Attended UNLV.
1994 NBA Slam Dunk Champion.
2001 NBA Champion.
Played for the Minnesota Timberwolves, Portland Trail Blazers, Atlanta Hawks, Los Angeles Lakers and Denver Nuggets.
Isaiah touches on the subject of signing a one year deal with the Lakers
for the 2000-01 season and on Kobe Bryant retiring at the end of this season.