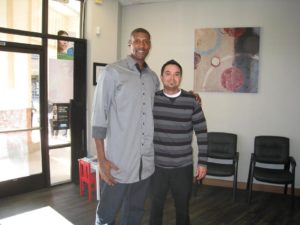 Samaki Walker had an appointment at the Optometry Practice of Dr. Alex Corbin Liu for an eye exam. If the name sounds familiar, it's because he won an NBA championship in 2002 while with the Los Angeles Lakers.
Samaki was very nice and friendly. He enjoyed his time at the office and after the exam, he picked out new eyewear and met with staff.
What is Samaki up to these days? He is currently running a coaching business and lives in the Valley.
Facts about  Samaki
Full name is Samaki Ijuma Walker.
Attended the University of Louisville.
Was the 9th overall pick of the 1996 NBA draft.
2002 NBA champion.
Played for six different NBA teams.