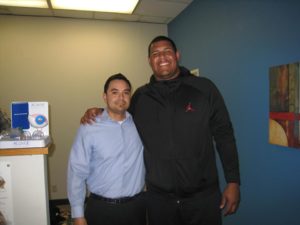 USC offensive tackle Zach Banner came to the Optometry Practice of Dr. Alex Corbin Liu for an eye exam. The 6-foot-8, and roughly 375 pound Trojan is the biggest athlete to ever come to the office.
Zach's final game with the Trojans was one of the most memorable Rose Bowl games of recent, where USC beat Penn State 52-49. It was the best Rose Bowl game that I had seen since the USC and Texas Rose Bowl of 2006.
Zach is projected to be a second or third round pick in the upcoming NFL Draft. I want to wish Zach the best of luck in the NFL.
Facts about Zach
From Lakewood, Washington.
Majored in communications at USC.
Zach's biological father is former NFL offensive tackle Lincoln Kennedy.