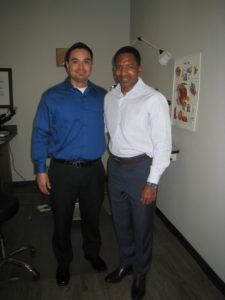 Former NFL running back Glyn Milburn came to the Optometry Practice of Dr. Alex Corbin Liu. Glyn has been a long time patient of the practice and was just making a routine trip for new eyewear.
Glyn had a nine year NFL career and was primarily used as a kickoff and punt returner. His career highlight came on December 10, 1995, where Glyn recorded an NFL record 404 all-purpose yards in a single game.
Glyn currently works in Los Angeles and is living in Santa Monica.
Facts about Glyn
Full name is Glyn Curt Milburn.
Attended the University of Oklahoma and Stanford. 
Played for the Broncos, Lions, Bears and Chargers.
2x Pro Bowl selection.
Holds the NFL record for most all-purpose yards in a single game.