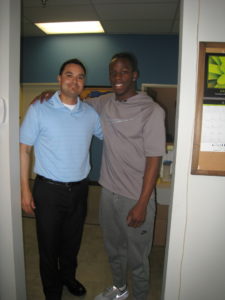 NFL prospect John Ross had an appointment at the Optometry Practice of Dr. Alex Corbin Liu. This was John's second visit to the office. He liked the selection of eyewear so much after his first visit, that he came back to select new styles.
John had a good showing at the NFL combine where he broke the event record running a 4.22 in the 40-yard dash. It has now earned him the name "Mr. 4.22."
John was selected as the 9th overall pick in the 2017 NFL draft by the Cincinnati Bengals. I want to wish John the best of luck playing on Sundays.
Facts about John
Full name is John Ross lll.
From Long Beach, California.
Attended the University of Washington.
2016 First-team All-Pac-12.
2016 AP Pac-12 Player of the Year.