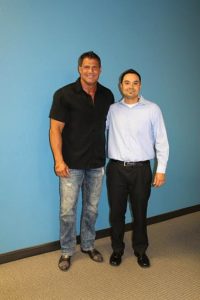 Former bash brother Jose Canseco made an appearance at the Optometry Practice of Dr. Alex Corbin Liu. Jose was in town for a couple of appointments one of which was a stop at the office for new eyewear.
In 2005 Jose's tell all book Juiced was released. He basically became a rat and named many baseball players who had or were using steroids. Jose made a lot of fans dislike him while smearing his own name.
The truth is Jose in one of my favorite baseball players of all time. His books Juiced and Vindicated being released didn't change the way I thought about Jose at all. Jose claims he wrote the books to get back at major league baseball for pushing him out of the game and to help clean it up. I don't believe that at all. I believe he did it for a paycheck. I could be wrong but that's just my opinion.
Regardless of what people say about Jose, it was a pleasure to have him at the office and he will always remain one of my all time favorite baseball players.
The bashing handshake with a former bash brother. I need to work on my technique though.
Though it didn't go in his favor, this is still one of my favorite Canseco moments.

Facts about Jose
Full name is Jose Canseco Capas Jr.
1986 A.L. Rookie of the Year.
1988 A.L. MVP.
2x World Series champion.
4x Silver Slugger Award.
6x All-Star.