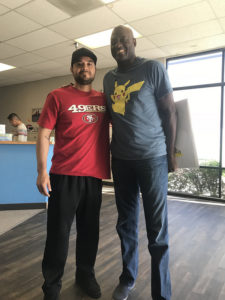 Former Laker Michael Cooper came to the Optometry Practice of Dr. Alex Corbin Liu. The Los Angeles Lakers great has been a regular patient of the practice for the past few years.
What was Coop doing at the office on Black Friday? He was checking out the discounted eyewear available at the office. As always, Coop enjoyed his time there and I'm sure he will be back in the near future.
Facts about Michael
1978 NBA Draft.
5x NBA Champion.
5x All-Defensive First Team.
2x WNBA Champion as coach.