The purpose of this site is plain and simple. It's to provide a free service that lists athlete appearances that take place in Southern California and post recaps of some of those events. A small group of people will all lend their time to make this site the best that we can.
Here is a little about me.
Name is Edgar Preciado.
33 years old.
From Redlands, CA.
Degree in Criminal Justice.
Some of the first autographs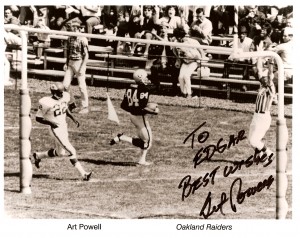 Former Raider Art Powell signed this for me at a Wal-Mart over 15 years ago.
Facts about Art
Full name is Arthur Louis Powell.
Drafted in the 11th round in 1959.
Had a career high 1,361 receiving yards in 1964.
4X AFL All Pro in 1963, 1964, 1965 and 1966.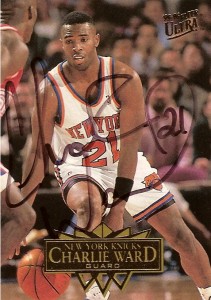 Former NBA player Charlie Ward signed this card for me over 15 years ago.
Facts about Charlie
Full name is Charlie Ward Jr.
Drafted 26th overall in the 1994 NBA Draft.
Won the 1993 Heisman Trophy.
Was in inducted into the College football Hall of Fame in 2006.