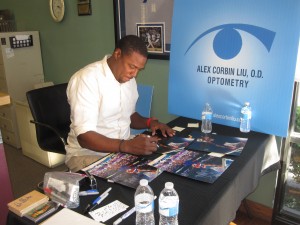 Cedric Ceballos made an appearance at the Optometry Practice of Dr. Alex Corbin Liu. The event was originally scheduled to take place on November 16, but it conflicted with another appearance by Cedric so the event was moved up one week on short notice.
Before the event started, autograph tickets were passed out to fans in line and they were notified that Cedric would only sign one item per person. When Cedric arrived a short time later he mentioned he would sign every item that fans brought. He was very kind and a true class act.

Here I am with the former Laker and Slam Dunk Champion.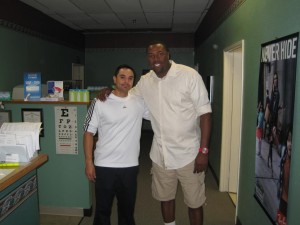 Cedric was so impressed with the optometry practice, he posted pictures from the event on his Twitter page @CedCeballos. Check out the page to view more.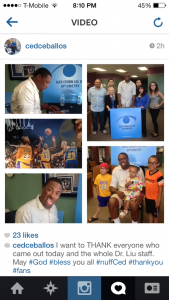 Facts about Cedric
Full name is Cedric Z. Ceballos.
Attended Cal State Fullerton.
Won the 1992 NBA Slam Dunk Contest.
Was a 1995 NBA All Star.