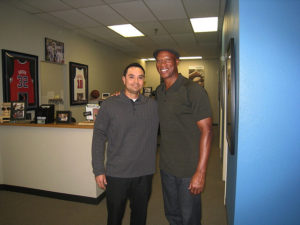 Former Los Angeles Lakers head coach Byron Scott came to the Optometry Practice of Dr. Alex Corbin Liu. This was Byron's first visit to the office. Apparently, one of the first things that Byron wanted to do for the new year was get his eyes examined.
After the exam Byron talked some basketball with us. He seemed to enjoy his visit and I'm sure he will probably be a regular patient from now on.
Byron was part of the Showtime Lakers during his playing career where he won three NBA championships. Shortly after his playing career Byron began his coaching career. He had head coaching stints with the New Jersey Nets, New Orleans Hornets, Cleveland Cavaliers, and recently with the Los Angeles Lakers where he was relieved from his coaching duties after two seasons. 
This video about Byron was posted online over three years ago by Lakers Nation.

Facts about Byron
Full name is Byron Anton Scott.
Attended Arizona State.
4th overall pick in the 1983 NBA draft.
3x NBA champion.
2008 NBA Coach of the Year.