Former USC quarterback John David Booty came to the Optometry Practice of Dr. Alex Corbin Liu. John had his eyes examined by Dr. Liu and then had the opportunity to pick out new eyewear.
It was nice having a former Trojan from the Pete Carroll era at the office. John was very friendly and told us stories from his time at USC.
John had two seasons as the starting quarterback at USC after the departure of Matt Leinart. He shined both years and led the Trojans to two Rose Bowl victories. Following his final season, John was drafted by the Minnesota Vikings in the fifth round of the 2008 NFL Draft.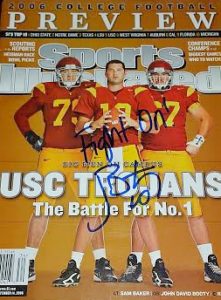 This is without a doubt the best fight song in the country. Fight on!

Facts about John
Full name is John David Booty.
Was drafted in the fifth round of the 2008 NFL Draft. 
2008 offensive Rose Bowl MVP.
Is the brother of former NFL quarterback Josh Booty.