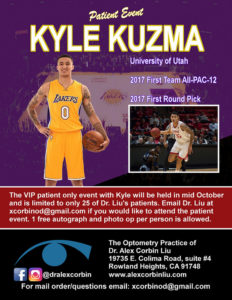 Los Angeles Lakers rookie Kyle Kuzma made an appearance at the Optometry Practice of Dr. Alex Corbin Liu. Kyle was there for a patient only meet and greet.
Kyle was a late first round pick but has been playing more like a top ten pick. He had a very productive summer league and NBA preseason. Kyle consistently showed signs why he may be the Lakers best player this season if given the opportunity to start.
I want to wish the rookie the best of luck in the upcoming NBA season.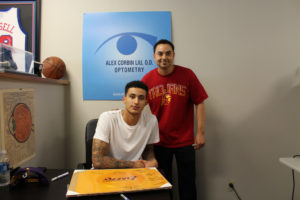 Facts about Kyle
Full name is Kyle Alexander Kuzma.
Attended the University of Utah.
2017 First team All-Pac-12.
27th overall pick in the 2017 NBA draft.