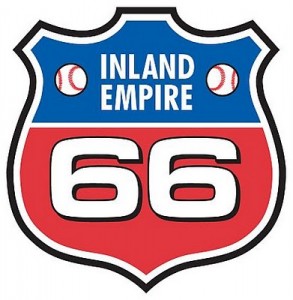 The Lake Elsinore Storm made a visit to San Bernardino for a four game series against the 66ers. I headed out to one of the games knowing the Storm have two former Major Leaguers on their coaching staff. One of the coaches for the Storm is Shawn Wooten, who is a member of the Angels' 2002 World Series team. The other is former Padres pitcher Brian Lawrence.
I arrived at San Manuel Stadium shortly after gates opened to the public. After entering I made my way down to the field and to my surprise noticed that Shawn was already out there. He was meeting with a little league team well before game time. When Shawn was done meeting the kids I called him over.
After getting my autographs from Shawn I waited for the Storm pitching coach Brian Lawrence. He was very nice and talkative.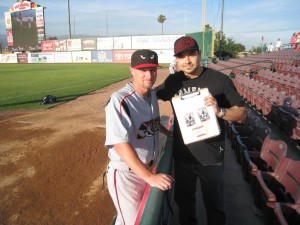 After receiving autographs from Shawn and Brian, I made the decision to stick around to get autographs from top prospects in the Padres organization. Then all of a sudden an announcement was made that former Major leaguer Cecil Fielder was going to throw the games first pitch. This caught me by surprise since I had no clue he was going to be at the game.
Cecil threw the first pitch and went over to the sideline to sign autographs for some kids. I was on the opposite side of the ballpark and hurried over. By the time I arrived he was being escorted to a suite by 66ers staff. I asked Cecil if he could sign my ball and he told me "not right now".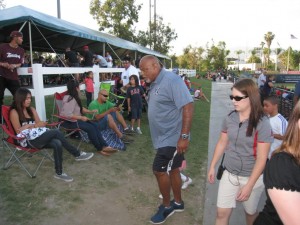 Cecil was with whom I believe were his two grandkids. I just let it be.