The Optometry Practice of Dr. Alex Corbin Liu hosted another public autograph signing at their Rowland Heights location. Last weeks event featured former NFL quarterback Vince Ferragamo. This time the special guest was former MLB star and fan favorite Steve Sax.
The event brought out many Dodgers fans who didn't mind paying a very reasonable $20 per autograph. The meet and greet lasted a few hours with Steve taking the time to talk to fans and pose for photos. The event was just as successful as last weeks event with over 100 people attending.
Fans also had the opportunity to purchase a copy of Steve's motivational book SHIFT. If you would like to purchase your own copy of SHIFT, click the link here.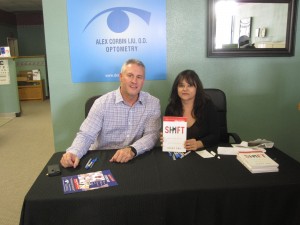 Steve's waving hello to my camera as he patiently waits for the event to start.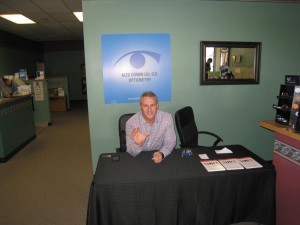 I have a post on my old blog from the last time that I met Steve linked here.

Even after a very successful MLB career, Steve remains a workaholic. He does a lot of motivational speaking engagements and will soon be joining MLB Advanced Media and MLB Radio Network on Sirius Satellite. 
stevesaxspeaks.com
stevesaxcoaches.com
Facts about Steve
Full name is Stephen Louis Sax.
Was drafted in the ninth round of the 1978 Amateur Draft.
1982 National League Rookie of the Year.
2x World Series Champion.
5x All Star.
Had a 14 year Major League career.