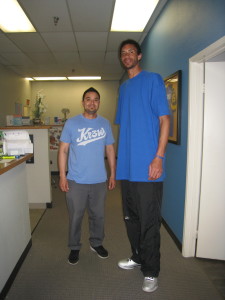 Former NBA Center Keith Closs had an appointment at the Optometry Practice of Dr. Alex Corbin Liu for an eye exam. Keith played briefly with the Los Angeles Clippers in the late 1990's.
During the visit he told us many stories from his time with the Clippers.
Facts about Keith
Full name is Keith Mitchell Closs, Jr.
Attended Central Connecticut State.
Played for the Los Angeles Clippers from 1997-2000.