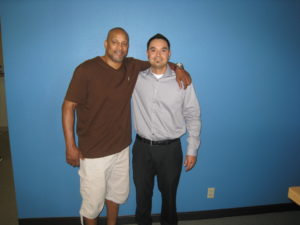 Former NBA point guard Pooh Richardson visited the Optometry Practice of Dr. Alex Corbin Liu. Pooh had an appointment for an eye exam followed by him choosing new eyewear.
Pooh loved the variety of eyewear available at the office and didn't have any trouble making a selection. Before leaving the office, he posed for photos and signed autographs for Dr. Liu and staff.
Pooh played his college ball at UCLA where he was a standout before heading to the NBA.
Full name is Jerome Richardson.
Was given the nickname "Pooh" by his grandmother.
Attended UCLA from 1985 to 1989.
3x All-Pac 10 first team.
Was the 10th overall pick in the 1989 NBA Draft.
Played for the Timberwolves, Pacers, and Los Angeles Clippers.