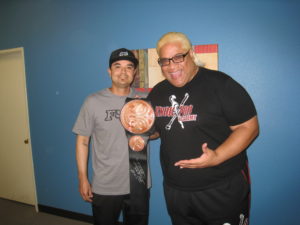 WWE Hall of Famer Rikishi came to the Optometry Practice of Dr. Alex Corbin Liu. Rikishi made a quick stop at the office to pick up his new eyewear.
I haven't been much of a wrestling fan since I was a kid. Finding out that the sport was fake was enough for me to stop watching. Nothing to take away from these athletes because they can do some really crazy and athletic stuff in the ring.
Regardless, it was very nice to meet this WWE Hall of Famer. Rikishi is a very appreciative and humble man.
The craziest signature move that I have ever seen. The infamous "Stinkface."
Facts about Rikishi
Real name is Solofa Fatu, Jr.
Was born in San Francisco, CA.
Is the cousin of wrestlers Dwayne "The Rock" Johnson and Roman Reigns.
2015 WWE Hall of Fame Inductee.